Pilgrimage to the Holy Land
The Holy Land is where God revealed Himself to man and where people experienced vivid workings of God. From the biblical times to the modern days countless believers in the Bible have ventured to go on a pilgrimage to the Holy Land. Likewise, thousands of Makuya people have made a pilgrimage to Israel.
We go on a pilgrimage with our deep gratitude for God's redemption and sincere prayer for peace in Israel and in the Middle East. Wishing that the faith of the Bible illuminates the path of our homeland, we bring back blessings, inspirations, and joy we receive from the pilgrimage trip to the Holy Land.
As we see the modern State of Israel during the pilgrimage trip, we witness the fulfillment of the biblical prophecies, which had envisioned the desert turning to the green field and the land flowing with milk and honey.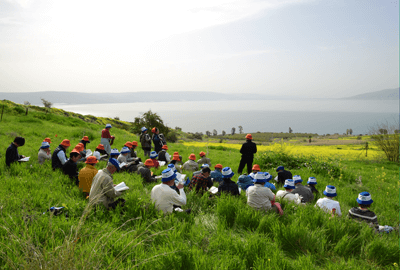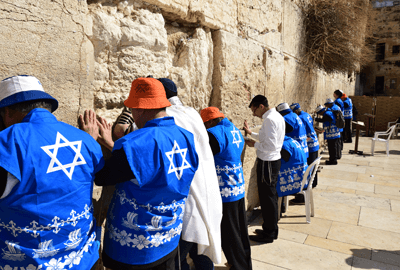 Makuya Students in Israel
Over 1000 Makuya youths have gone to Israel to study since 1962. We believe that reading the Bible in its original language and the environment is essential to understand the deep meaning of the Bible and to draw its spiritual life.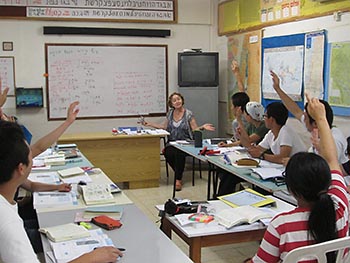 The Makuya students study the Hebrew language first in Kibbutz Heftsi-bah. They also tour around Israel to learn the history and culture of the Jewish people. Finishing the beginner's class of Hebrew in Heftshi-bah, some students continue to study in other educational institutions or in universities.
While living in Israel, the students also learn the pioneering spirit and the patriotic love of Israelis, who have established their own country after their long history of persecutions. Studying, praying, and living together in Israel, they develop a life-long friendship with their classmates and Israeli friends. Their experience of deepening love and concern for their friends will be a treasure in their remaining life.
Kibbutz Heftsi-bah
Kibbutz Heftsi-bah is located in the Jezreel Valley at the foot of Mt. Gilboa, in the northern region of Israel. Makuya has established the sister-city relationship with Heftsi-bah since 1962 and has sent students to study the Hebrew language. Each student is assigned to a kibbutz family and experiences the Jewish home life.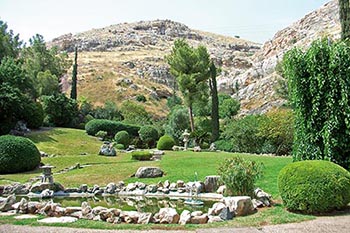 Makuya built a Japanese garden as a symbol of the Japanese culture in Heftsi-bah, which is a symbol of the Jewish pioneering spirit. The first settlers turned the land full of swamps and malaria into a fertile granary by taking great pains. The garden has become a tourist attraction and a place of relaxation of the Israelis.
Makuya Center in Jerusalem
Makuya Center was established in Jerusalem in 1988; it has a small Japanese garden, tea ceremony room, and a library. It is a place of the cultural exchange of the two countries and also serves as a place of prayer and study for Makuya students. Various seminars are held here by Israeli religious leaders, professors, musicians, and artists.
Japanese Room